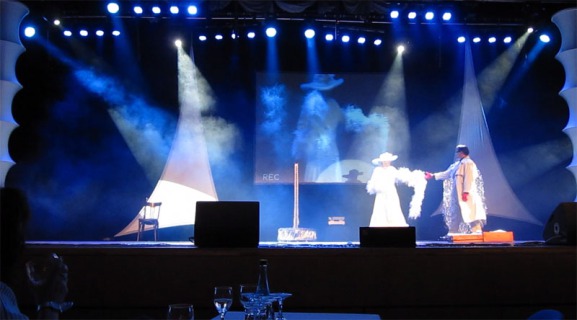 The masters of transformation changing costumes completely, one after another , and so incredibly fast that it borders on a film edit. They fascinate their audience with their magical cocktail of fashion consisting of 14 Quick-Change effects. Quite a few woman would dream of being able to marry in Alina's "work clothes"! Even items of French Haute Couture clothing have been incorporated into this branch of variety entertainment. Wonderful, long, dresses and overcoats make this spectacular act one of the quickest and most difficult in his trade. Alina is the only woman in the world to master the split second costume change whilst still bound in less than a second.
Lex Schoppi & Alina have been awarded with several gold prizes for entertainment and have been the first German magic duo to be presented by the leading magazine for magicians and mentalists in Europe, "Magicseen". The magazine entitles them "world's leading Quick Change Artistes" and dedicated a full four page report to the magic duo. In 2008 the official institution of the international professional association for show and entertainment arts bestowed upon them the title "Artists of the Year" in the category "Best Transformation Show". One month later they have been in the biggest European Circus-TV-Show.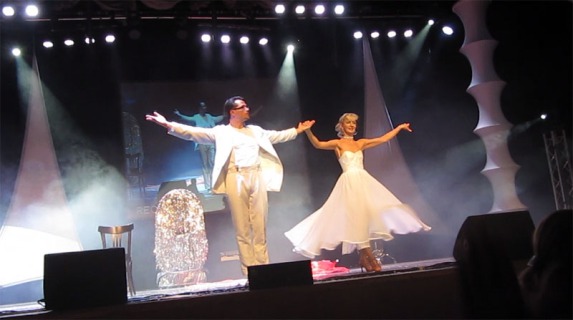 In Germany they have been awarded as "ARTISTS OF THE YEAR 2008 + 2011".
They obtained the important German Entertainment Award
Golden Artist Magazine 2008
honoured them with several golden magic awards
They have been the FINAL ACT of the
"BEST OF INTERNATIONAL MAGIC & VARIETY" in London
The magic magazine "Simsalabim" wrote this is:
"ONE OF THE BEST QUICK CHANGE ACTs IN THE WORLD".
The magic magazine "Magicseen" wrote they are:
"ONE OF THE WORLDS LEADING QUICK CHANGE ARTISTES".