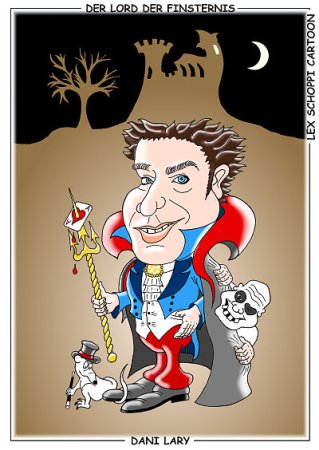 I call this drawing
The Lord of darkness
Well, any explanation is redundant. Everyone who does not know this magician really missed out on something. Dani Lary from France is one of the most successful illusionists throughout Europe. His international popularity is based on the TV show: 'Le plus grande Cabaret du Monde' which is broadcasted world-wide by TV5. Some Celebrities and the host Patrick Sebastien are sitting in a dinner-theatre at a table and chat. Each guest brings one vaudeville artist. This show is one of the most popular Saturday night primetime shows, similar to the German 'Wetten, dass…'.
Dani Lary performs the final turn – usually an opulent illusion. Dany Lary has a soft spot on gritty comedy with tongue-in-cheek. He is always accompanied by his house elf Eric who helps him with his props and typically fools around.
I have depicted Dani Lary with his house elf Eric in this cartoon. The grandmaster wears classic tails, of course – in his case in the French national colours. Since it is a known fact that grand-illusionists do not bother about card tricks, he spears the ace of hearts with his blivet. The old castle is an allusion to his full-length illusion-show: 'Chateau'.
Find more about Dani Lary: www.danilary.com
Dibond – 30 x 40 cm