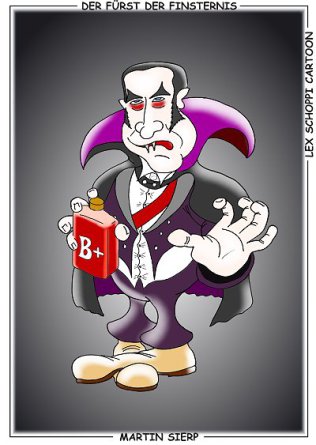 I call this figure
Prince of Darkness
Martin Sierp aka "Prince of Darkness" just returned from the blood bank. Unfortunately he grabbed the wrong blood type which results in his misty eyes and his crosswise stand. The incumbent German Champion of comedy magic has recently been at Dieter Hallervordens "Wühlmäusen" on TV. This is a generally accepted competition for young talents which is performed life on TV with millions of viewers. Martin Sierp performed outside the competition as a gala-showact and flapped over the stage.
Serves him right, if I sit in front of my TV with my pencil, this old bat.
By the way: His magic mate Sascha Grammel won the public's choice award for his ventriloquist performance in this show – congratulations from my side! Martin Sierp and Sascha Grammel form "The Zauderer" together – a funny, batty magic duo.
The prince of darkness really exist: www.der-fuerst-der-finsternis.de/
Dibond – 30 x 40 cm