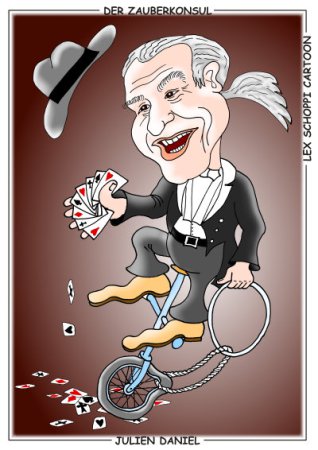 I call this figure
The Conjure Consul
See the French magician Julien Daniel. Julien has been living in Berlin until a few years ago and has been significantly involved in supporting the Franco-German Friendship between the friends of magic from France and the "Magischer Zirkel", Berlin. He is a so called Conjure Consul. To date magicians from Berlin are still visiting the French friends of magic and vice versa. Thus, the concept of a consul seems appropriate for me.
Julien Daniel's favourite trick is the Braco routine with a ring and a rope. Braco himself allowed him to carry on his trademark.
Today Julien lives in France with his wife Vici and found another passion additional to magic: unicycling. In this cartoon you see his new rope ring bike chaining.
His lovely wife gave him this picture on dibond 30 x 40 cm as a present and Julien was very happy so that he hung it up at his place.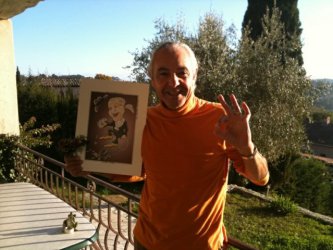 Julien Daniel: http://www.juliendaniel.de/