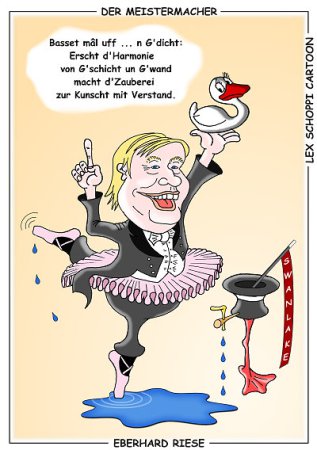 This picture is part of the serial
News from the Headquarter
In this cartoon Eberhard Riese preaches his theses. Once he wrote a world best-seller about the creation of magic performances with underlying plot where the character finding does not flinch from using musical or movie characters. The honorary member of the Magic Circle Germany from Stuttgart is founder of the so called 'Stuttgarter Schule'.
A vast number of international successful Championship-turns have emerged from there and several of them achieved the World Champions title (believe it or not, this really exists). The 'Stuttgarter Schule' takes up the cause of breaking with the classic cliché of magicians in tails and tophat.
Just another reason for me, kitting out the figurehead of scenic competition magic befittingly. Stuttgards star director dances en pointe in tutu skirt Tschikowski's swan lake. Clothes make the man…
… out of his hat, which matches the plot, he conjures a little swan. The necessary and absolutely fitting stagedeco blusters out of it, too.
Rounding off the scene, the great master delights us with a poem free adopted from Hofzinser:
" Only when tale meets garb, magic turns to pleasing art." *
Concerning the headquarter
The serial:
As implied in the title, you will find news from the headquarter. I have bugged the ultimate centre of magic power so that I can take snapshots at the right moments. Here you will find everything, that is usually in hiding or what the future will bring. Return and find out more…
Lex Schoppi Cartoon
All Lex Schoppi Cartoons are freehand drawn and digitalised afterwards. So everyone who would like to decorate his theatre or his advertising space is cordially invited to check Lex Schoppi Cartoon for more information.