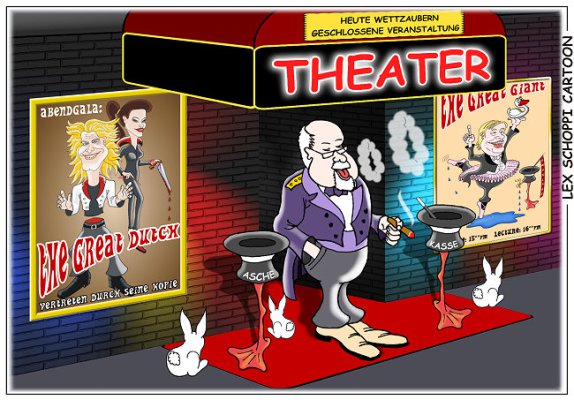 This cartoon is part of the serial "Theatre at the headquarter"
This is the wicket of the virtual theatre. I finished the interior as well as the exterior view, so that I can paste everything up and each and every hero can perform on my stage.
We have a doorman, of course (chairman of the Magic Circle, Germany).
See the preparation of an important major event.
Concerning the headquarter
The serial:
As implied in the title, you will find news from the headquarter. I have bugged the ultimate centre of magic power so that I can take snapshots at the right moments. Here you will find everything, that is usually in hiding or what the future will bring. Return and find out more…
Lex Schoppi Cartoon
All Lex Schoppi Cartoons are freehand drawn and digitalised afterwards. So everyone who would like to decorate his theatre or his advertising space is cordially invited to check Lex Schoppi Cartoon for more information.