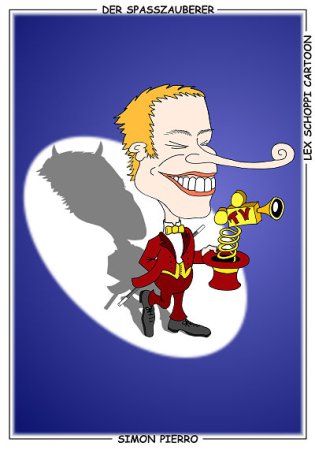 I call this picture
Cheeky Magician
Simon Pierro is a German magician, who already entered contests in his younger years successfully.
As a dishwasher he lived the rags-to-riches story on stage. Everything he touched turned to gold, even his vest. He is Vice-World Champion of Magic and won the Siegfried & Roy Award in Las Vegas. He is from the so called 'Stuttgarter Schule', too. Most properly he requires a shrine for all his prizes and awards as well. Simon Pierro has been spotted in Germany by Frank Elstner for the TV format 'Verstehen Sie Spaß'.
Soon he established himself as the 'cheeky magician' and has nearly been on every show during the 'Elstner-era'. He also used magic art in the street. Made cars disappear, exasperated remover, grabbed through bullet-proof glass and made passers-by brood. He really pulled the wool over the clueless' eyes.
He always pretends to break the classic cliché of the magician with tophat and tails. That's surely reason enough to sort him out. I think the tails suit him good. Thanks for the fit occasion, Simon.
Here he is, the diabolic TV-cheeky magician Simon Pierro, in classic tails and golden Vice-World Champion vest. Out of his tophat jumps the hidden camera… Täätää
Simon Pierro in web: www.simonpierro.de