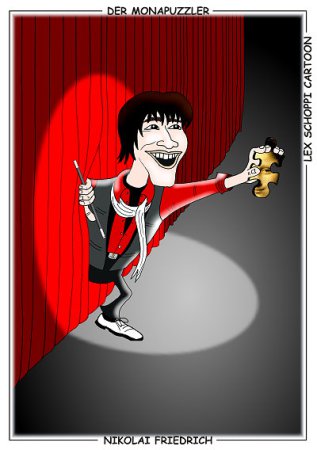 I call this figure:
Mister Mona`s Puzzle
Nikolai Friedrich is a multiple times awarded best performer at world championship of magic and is the most successful German mentalist by far. He is also member of the group 'The flicking fingers', he has been honoured with the Siegfried & Roy Award in Las Vegas and has also been magician of the year. His showpiece, which he performed at word championship, is Mona Lisa's Puzzle – strictly spoken – her smile. One spectator chooses one of thousands of jigsaw pieces and this is Mona Lisa's smile. This is what he gained fame for. So remarkable that David Copperfield himself bought this trick. Furthermore, Nicolai Friedrich has been finalist of the TV show 'The next Uri Geller'. Currently he tours throughout Germany with a full-length mental show.
But how to caricature a man who has been awarded so often? Having such a broad repertoire? Requiring a shrine for all his prizes and trophies?
You just hide all this stuff behind a curtain:-) and give him the possibility to present the essential: The one thing he owes so much to. The one thing every magician associates him with: Mona Lisa's Smile.
I dressed him up with tails and tophat, but this little rascal spirits it behind the curtain.
So get a load of that: Nicolai in his birthday suit – ok, nearly… but at least exactly the way he likes it.
This cartoon has been published in the trade magazine "Magische Welt" 3/2010. Find a full page ready to cut it out so that you can hang it up over your bed or behind the curtain.
Nikolai Friedrich really exist: www.nikolai-friedrich.de
Dibond – 30 x 40 cm