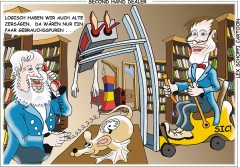 (Of course, we have old saws… hope you don`t mind traces of usage) See both heroes from the legendary Second Hand magic shop `SIC!' at work. This interactive cartoon has been put out for tender on the social network FACEBOOK. Whereas some magicians requested to see the famous two suffocate in books, others compared them with the TV scrap dealers 'Die Ludolfs'. Actually you can get every magic trick in the SIC' warehouse, that has ever been produced. The SIC! depot ranks among the biggest treasure troves in whole Europe. Thus I decided to furnish the room with bookshelves and old props. Just give them a call and the protagonists unearth the whole warehouse with their forklift.
They put their name on the map with their Second Hand shop and chanced their luck as publicists. Guess what, today they are one of the most successful publishers of German-speaking magic-literature.
In the picture on the left UWE Schenk, on the right: Michael Sondermeyer. Uwe is boardmember of the Magic Circle Germany (MZvD), therefore this cartoon can be found in the serial "News from the Headquarter".
This dibondpicture has been presented on the congress of the MZvD e.V., at the end of October in Freital close to Dresden. The two protagonists are currently moving to a new domicile, where it will be hung up in the lounge.
Dibond – 40 x 30 cm
These two guys really exist: www.sic-verlag.de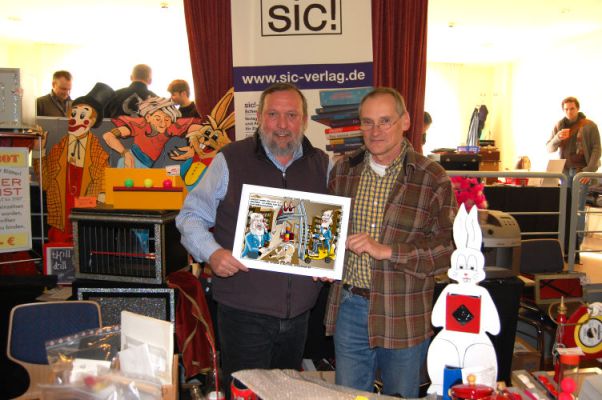 Concerning the headquarter
The serial:
As implied in the title, you will find news from the headquarter. I have bugged the ultimate centre of magic power so that I can take snapshots at the right moments. Here you will find everything, that is usually in hiding or what the future will bring. Return and find out more…
Lex Schoppi Cartoon
All Lex Schoppi Cartoons are freehand drawn and digitalised afterwards. So everyone who would like to decorate his theatre or his advertising space is cordially invited to check Lex Schoppi Cartoon for more information.