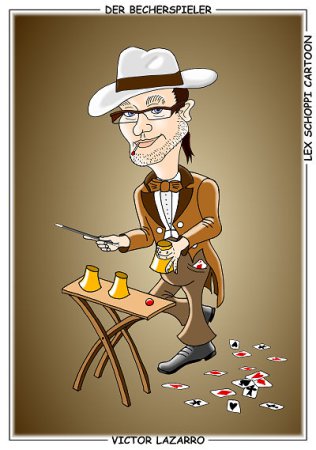 I call this picture
The shell man
Victor Lazarro claims to have had a passionless and uneventful childhood, until his grandfather finally gave him a deck of cards.
Big patience and the love to his 52 obedient friends earned him several awards and prizes. After his criminalistics studies he got more and more interested in card sharping. On study trips to North and Middle America he got acquainted to this dangerous art and lived for a longer time in Mexico.
Back in Germany he went underground in Leipzig and shortly after moved to the capital Berlin under a false name. He was founding member of the Close-Up-Clubs there and worked on more programs.
A few years later, he established himself with his CasinoMagicShow on the German Gala market.
Since then he is one of the best booked Event- Card Sharp in exquisite pokerclubs, casinos and hotels.
His favourite trick, in addition to the poker cards is the shell game for which I caricatured him with the threat of Greek Euro bills (Yes, I am bribable).
See his current autograph card. This picture has been issued in 300 dpi, 40 by 40 cm. Poster could also be printed based on it.
Victor Lazarro really exist: www.lazarro.de