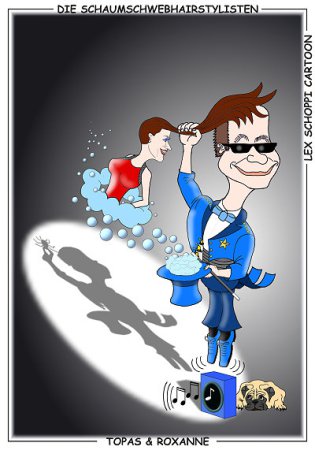 I call this cartoon
Levitating Stylist in Soap and Hair
Topas is one of the most famous German magicians. He achieved the world title in the supreme discipline 'manipulation' at a very young age. Whilst his schoolmates spent their time in discos, he performed in Las Vegas, toured with his art throughout America and – believe it or not – played for the royal family in Monaco. One day he even required a warehouse for his prizes and trophies. He also featured a Til Schweiger film. Once upon a time he met a witch and fell in love with her, that's the way it is. She is a highly decorated worldclass magician, too: Roxanne. They beat the event market together and are on the international stage with several full-length illusion and comedy programs to date. The two created various unique illusions.
I have tried to present one of their biggest brainchilds. Topas levitates in his solo with a keyboard. He wears a blue jacket (which he still uses to wear) in his worldclass routine and produces sunglasses and some cheesy little bells (that he just hid in it before). In my cartoon he is equipped with tails, wand and tophat… of course. Proudly showing his golden decoration of the International Federation of Magic Societies (FISM).
Presenting his latest routine – the so called Foam Illusion – in which Roxanne appears out of foam.
Roxanne herself has a fantastic change performance. She creates different hair styles out of her long mane and thus depicting different characters. Whilst Topas – mother nature was not that generous – avails himself of hers in the picture. Be honest, this is better than a rug.
We all got to stay young… which leads us to another number: the playroom. In this box illusion – on which he is very proud of – dozens of boxes appeared out of one speaker and at the end – who might have guessed – Roxanne. See her wearing the black and red dress. However, her true personality is initially revealed in the shadow. She has an award-winning solo as a spiderwoman and Topas lifts her up. One day they discovered their love for pug dogs, who are also part of the show. Hope, I did not miss on anything…
This cartoon has been published in the trade magazine "Magische Welt 1/2010". Find a full page ready to cut it out so that you can hang it up over your bed or behind the TV.
Topas & Roxanne really exist: www.topasmagic.de.
Dibond – 30 x 40 cm