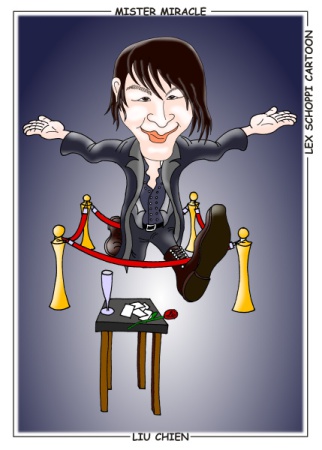 I call this cartoon
Mister Miracle
See the currently most famous magic artist of the world. Billions of viewers saw him in several TV specials live on TV. In summer of 2011 he was invited by Luis de Matos to his elite club.
The EMC (Essential Magic Conference) is an annual meeting on internet TV for important and famous magicians. Magicians that Luis de Matos considers to be important and famous, to be exactly. Most often the participants are the same. Last time, 33 magicians sit there in front of the cameras, watched each other enchanting and talked a lot. Some of them just talked. One of them even showed a film of his performance. It was kind of film in which the actors are also sitting in the cinema and also watched a film. That's cinema at its best. Applause, applause!
Liu Chien has also been invited there and showed his ACAAN routine. He performed it without hands and locked-up in a delimited area. You could nearly hear the jaws of 32 magicians drop. Whilst billions of viewers hailed in front of their TVs, the best super-magicians called this routine on the EMC show 'middling'.
Well, I really like it, therefore I created this cartoon: Liu Chien on the EMC with his ACAAN routine.
This cartoon has been published in the trade magazine Magische Welt 4/2011 in fullpage, so that you can cut it out. Furthermore, you will find a very interesting interview with him – and much more.